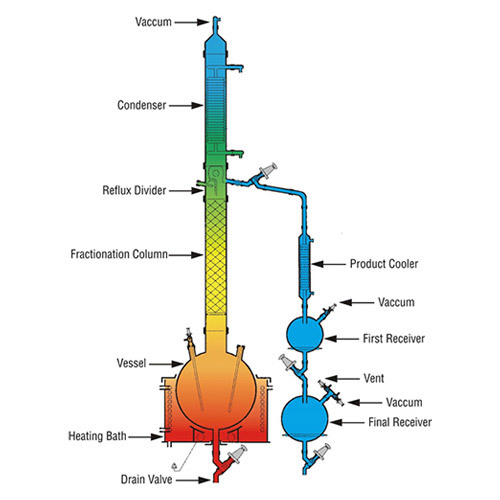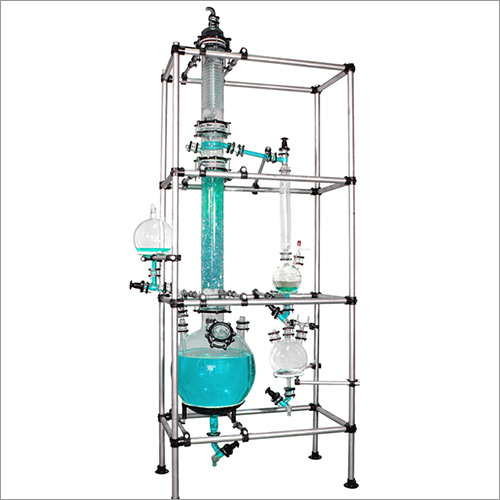 Fractional Distillation Unit Price And Quantity
Fractional Distillation Unit Trade Information
Product Description
We are distinguished in dealing a broad variety of Fractional Distillation Unit. It is mainly used in oil refineries to separate the crude oil. This unit is used to discrete the complex mixture into fractions. Fractional Distillation Unit main function is to measure the temperature of the vapour. Provided unit ensures to a better separation rather than a simple distillation. It is installed in a compact of batch type unit and in a heating bath.
This is a general purpose batch distillation unit to be operated under vacuum.
Heating bath heats and evaporates the content of the vessel. Vapours enter in to the packed column and get fractionated. Vapours of low boiling liquid enter into condenser, get condensed and collected into the twin receivers. From the final receiver distillate can be removed without breaking the vacuum.
The unit is complete with a spherical vessel, drain valve, heating bath, thermometer pocket, liquid inlet, packed column, a coil condenser, product cooler, and twin receivers.
Unit
Cat.ref.

Reactor
Capacity

Bath
KW

Packed
Column

Vapour
Line

Condenser
HTA M²

Cooler
HTA M²

Receiver
Size

BFDU 20

20 L

4.5

80mmX1m

80 DN

0.35

0.1

2L, 5 L

BFDU 50

50 L

6

100mmX1m

100 DN

0.5

0.2

5L,10L

BFDU 100

100 L

9

150mmX1m

150 DN

1.5

0.35

10L,20L

BFDU 200

200 L

12

150mmX1m

150 DN

1.5

0.35

10L,20L

BFDU 300

300 L

15

225mmX1m

225 DN

2.5

0.5

20L,50L

BFDU 500

500 L

18

225mmX1m

225 DN

2.5 x 2

0.5

50L,100L
Enter Buying Requirement Details
Other Products in 'Standard Glass Units' category